The correct use of a valved holding chamber is essential to ensure the effectiveness of inhaled treatments.
What's a valved holding chamber?
Valved holding chambers are devices that deliver inhaled treatments to treat respiratory diseases.
These devices combined with a metered dose inhaler allow for the local treatment of asthma and bronchopulmonary diseases.
Thus, unlike systemic treatments, the valved holding chambers deliver the medication directly to the area to be treated. This characteristic ensures a faster response, reduces the amount of medicine to be administered and minimises the risk of side effects for the cat.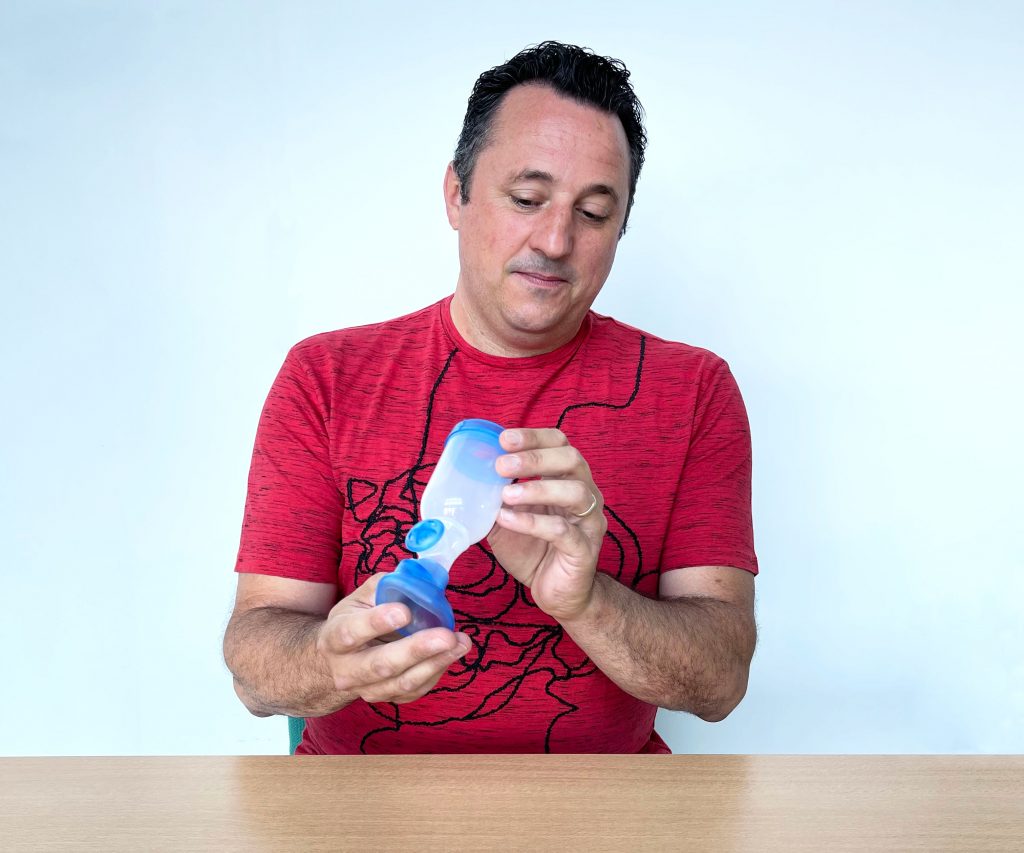 Precautions of use

Before first use, it is recommended to rinse AnimHal® Cat with clean water and leave it dry.
Use the inspiratory valve (d) only if your cat is heavier than 9kg (if required, follow the instructions to disassemble the inhalation chamber and to re-assemble it to remove the inspiratory valve). Check the correct assembly of AnimHal® Cat, then, when necessary, check the correct positioning of the valve.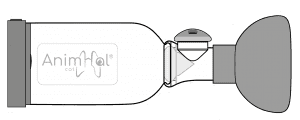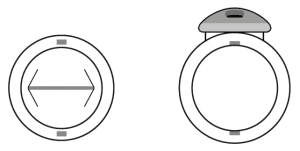 Check there is no foreign object in AnimHal® Cat. Shake the metered dose inhaler and remove the cap (see the instructions given with the metered dose inhaler). Insert the mouthpiece of the metered dose inhaler into the rear connector of AnimHal® Cat.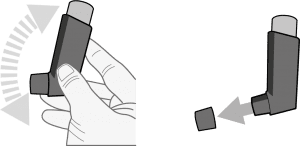 How to use AnimHal® Cat ?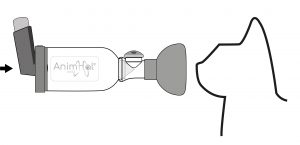 Position AnimHal® Cat mask over the mouth and nose of the cat and press gently to ensure the mask is correctly sealed over the face without generating any discomfort for the cat. The cat's noze must be aligned with the mask cavity designed for this purpose.
Press the metered dose inhaler to release a dose of medication and hold the mask on the face for about twenty seconds. Remove then the mask from the cat's face.
If your veterinarian prescribed several doses, wait for the cat to be compliant again.
After using AnimHal® Cat, remove the metered dose inhaler and put back its cap. Store the AnimHal® Cat valved holding chamber, assembled and with its mask, in a clean and dry place.